Cell Artist Ouma / 細胞アーティスト・Ouma
Born in Tokyo, I am a trained veterinarian, and also studied pathology. I made my first foray into art by drawing pets that had passed away, and sending the paintings along with letters to the families. The families really enjoyed the paintings, which inspired me to find a way to heal without medicine. I started doing art in 2011, and in 2013, I had the first solo show. The motif of my work is cells. My aim is to create an opportunity for viewers to develop their healing abilities by using their senses to experience my art.
東京都出身。元獣医師。 臨床医時代に、担当患者の「死」をきっかけに、その子の絵を描いてお手紙と共に家族に送り始める。その数は100以上。獣医師の仕事の本質である「心の癒やし」を全うするため、手術や薬によらない可能性を模索しようと2011年よりアート活動を開始。 2013年1月に六本木のギャラリーUNAC TOKYOで初個展。治療の代替としてのアートの探求を目指し、生命の最小単位である「細胞」をモチーフとして、鑑賞者を主役とする体験型の作品を制作。 世界中の人をつなげるアートプロジェクト「SORAプロジェクト」を主宰。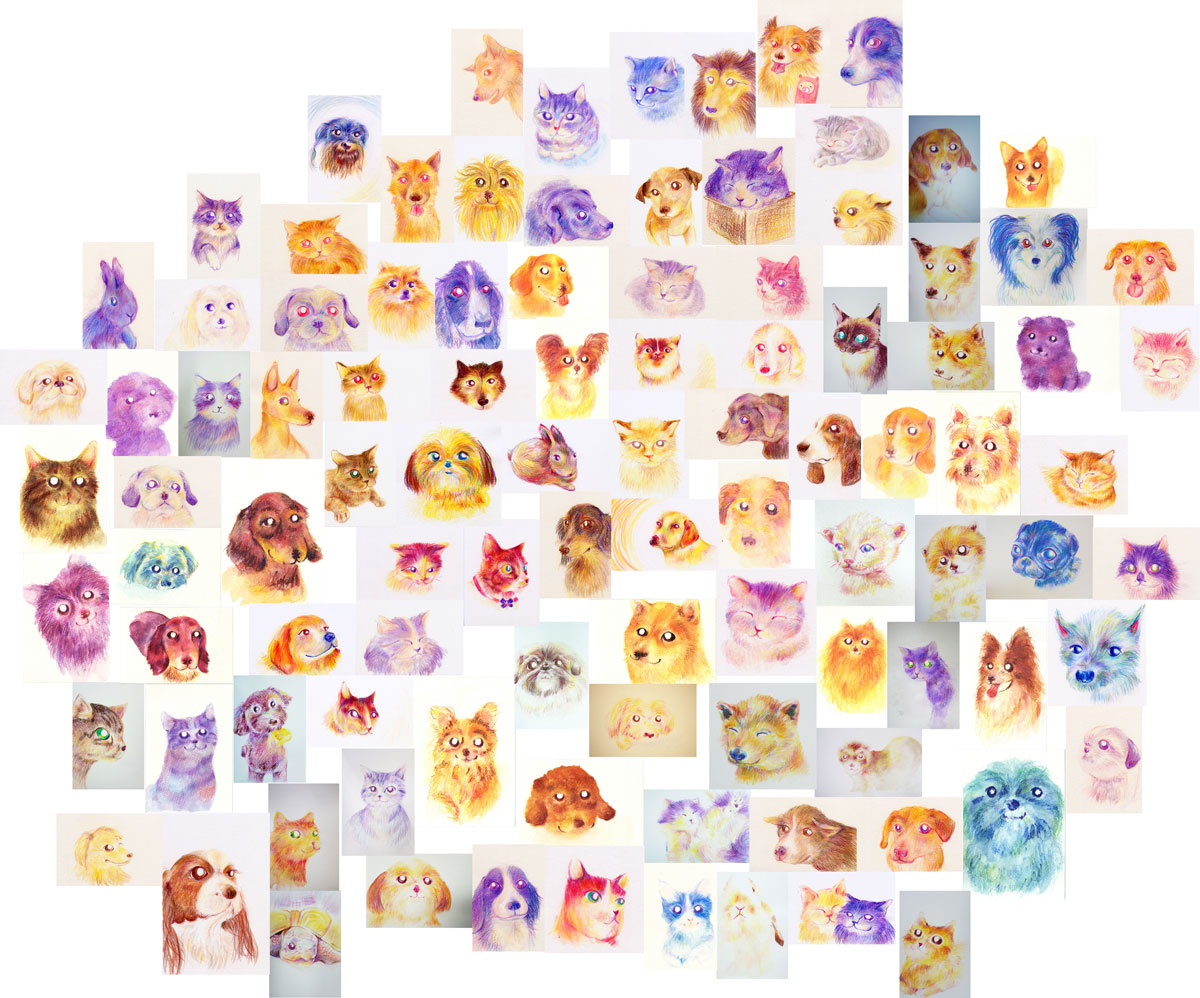 Education
2003年麻布大学獣医学部獣医学科卒業
Bachelor of Veterinary Science 2003 Azabu University,Tokyo Apr 1997 - Mar 2003
Statement
As a veterinarian and artist, I have long been following my quest for "art as alternative treatment" by creating works of "cellular" art, for cells are the smallest life vessels. In questioning what healing is all about, my interest has transitioned from individuality into totality . Both as a veterinarian and as an artist, through treating people as one-and-only individuals, I have sought to find healing methods just tailor-made to respective subjects.
Cells, by their cohesive collaboration, have evolved into ever higher-functional units. Single cells developing into multiple ones, now in case of humans individual bodies consist of 60 trillion cells. I am pondering, "If a person as a collective life of innumerable cellular lives is content, none of individual cells could be unsatisfied". Meanwhile, questions on "ownership" have come to be raised inside myself. Times have already shifted from "consumption" into "sharing". My works of art are already not created by myself alone: they are composed by works of other artists, words of or influences from somebody else. Could we really assert complete originalities over our respective thoughts, actions, and works?
The idea of owning being way old and restrictive, now we could obtain everything without possessing it. I present through my works the experience of "scrap and build" as well as that of "create and develop". We, as individual units of cells (i.e. lives), are interacting with the world as the total Life (i.e. collective lives). This is the providence from which there is no way out for us.
I believe we no longer need ownership idea. Through my artistic activities, I am trying to let the participants and viewers perceive the con-sequential totality of the work and return to the viewers the liquidatable ownership of the work signifying the repetition of creation and destruction.
私は元獣医師として生命の最小単位である「細胞」をモチーフとした作品を通じ、「治療の代替」としてのアートを探求しています。 癒しとは何かを探求するうちに、私の興味は個体から総体へと移ってきました。獣医師としても、アーティストとしても、私は一人一人を個別の存在として扱い、それぞれにあった癒しの方法を模索していたのです。細胞は集まって協力し合うことにより、より高度な機能を獲得してきました。 単細胞が多細胞となり、60兆個集まってヒト一人の生命を形作っています。生命の総体としてのヒトが満ち足りていれば、個別の細胞のいずれかが不幸ということはないのではないかと。
そうしているうちに、私は「所有」に対する疑問を持ち始めました。
すでに時代は「消費」から「シェア」に変わってきています。
私の作品は、すでに私一人でつくっているものではありません。他の作家の作品や、誰かの言葉の影響を受けてできあがっています。 私たちは本当に、自分の考えや行動、つくったものを自身が制作した完全なオリジナルだと主張することができるのでしょうか。
所有という概念はすでに古く限定的で、私たちは何も所有しない代わりにすべてを手に入れられるのです。 私は作品を通じて「破壊して創造するという体験」を提供し、同時に「破壊され発展するという体験」を提供します。このように個別の細胞(生命)である私たちは、総体としての世界(集合生命)に影響を与えあっています。それは世界の摂理そのものであり、逃れることはできません。
私たちはすでに、所有を必要としていないのです。 私はアートを通じて、総体としてのつながりを感じさせ、繰り返される創造と破壊という流動的な所有権を鑑賞者に還元します。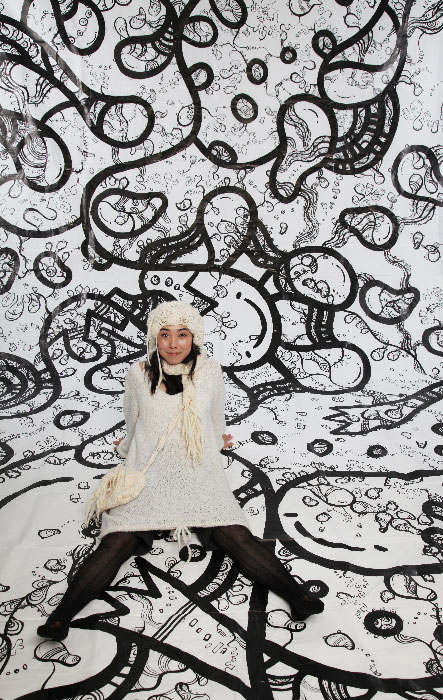 This is all animals who I met when I was a veterinarian.
Solo Exhibitions
2016
"Inferior parade", UNAC TOKYO, Tokyo, Japan
劣る者の楽園、ウナックトーキョー
(September 5 - 17)
"Her letter only says "yes".",Art-League gallery, St Petersburg, Russia
彼女からの手紙には「Yes」とだけ書かれていた。、アートリーグギャラリー、サンクトペテルブルグ、ロシア
(April 24)
"Cellular",WTA - Werner Thöni Artspace, Barcelona, Spain
(March 3 - 19)
2015
"The will for changing the world", Gallery Natsumikan Daikanyama, Tokyo, Japan
世界を変える意志、ギャラリー懐美館(なつみかん)代官山
(September 4 - September 13)
"After Big Five", UNAC Tokyo, Tokyo, Japan
五度目の大絶滅の後、ウナックトーキョー
(April 8 - April 18)
2014
"OM", Ouchi gallery, New York, USA
(July 29 - August 3)
"Mi", Gallery coen, Kanagawa, Japan
「み」展、ギャラリーcoen
(May 13 - Jun 1)
2013
The art of "self‐healing and self‐certification", UNAC salon, Tokyo
自己受容と自己治癒の美術、ウナックトーキョー
(January 10 - 24)

2011
The 39th anniversary of the Cafe, Cafabunna, Tokyo
視覚で聞く39年目のかうひいや展、かふぁぶんな
(December 5 - 25)
Group Exhibitions
2017
The group show for Artist in Residency 2015-2016 by ALTE SCHULE Hohenstein Artists Residency, Kunstmuseum (Art museum) Hersbruck am Spitaltor
(February 2 - April 2)
2016
Niigata Office Art Street 2016, Niigata, Japan
新潟オフィスアートストリート2016
(September 24 - October 23)
Icke and friends, Werner Thöni Artspace WTA
(September 2 - October 7)
2015 - 2016
1人用美術館「創造する自分」、ヘアサロンMADAEN、東京
「訪れる人を外見・内面ともに変化させる」ことを目指したヘアスタイリング、フローラルデザイナーとのコラボ展
(November 11, 2015 - January 31, 2016)
2015
Curves & Lines, Linus Gallery LA
https://www.youtube.com/watch?v=hfWhyhGaxq4
(February, Selected online Exhibition)
2014
Homing Pigeon, Nitehi works 509kadoue (Yokohama, Japan)
世界を巡る写真展 Homing Pigeon「伝書鳩:其の三・横浜編」、Nitehi works 509kadoue、横浜
(October 27 - November 2)
The Senses, Linus Gallery LA
(March, Selected online Exhibition)
Pop up art show LA
(March 15 - March 31)
2013 - 2014
_ _ ORNAM_NTS 3: Art Fortunes Group show of artists' ornaments
Balconi Coffee Company + Cafemode present, Los Angeles
curated by Kio Griffith
(December 20 2013 - January 12 2014)
2013
Onward - Navigating the Japanese Future 2013展
by Artrates, Hive Gallery, Los Angeles
(December 19 - 28)
ARTLABO X 2013 Final by The Artcomplex Center of Tokyo×C/LABORATORY, Tokyo
ARTLABO X 2013最終展示、アートコンプレックスセンターTokyo
(December 13 - 15)
ARTLABO X 2013 by The Artcomplex Center of Tokyo×C/LABORATORY, Tokyo
ARTLABO X 2013、アートコンプレックスセンターTokyo
(October 15 - 20)
Nature photo exhibition, with 12people, LAND&SEA GARAGE GALLERY, Tokyo
大地と草原の歩き方写真展、LAND&SEAガレージギャラリー
※地球の歩き方取材写真展示
by Japanese Famouse Travel guide book,
(February 23 - March 3)
"Residence in the Gallery" The Artcomplex Center of Tokyo, Tokyo
ギャラリーを仕事場にする4週間、アートコンプレックスセンターTokyo
(July 10 - August 2)
Award
2016
Tokonoma art competition 5th selected, Japan
古湯温泉ONCRI 第5回「床の間アートコンペ 」 入選, 日本
Granship art competition 2016 Encouragement award, Jpan
グランシップアートコンペ2016 奨励賞, 日本
2014
PM AWARDS CONTEST 2014, Landscapes, Ecology,Travel/Tourism Best photographer of the year, Uruguay
http://www.mulafoco.org/index.php/mulafoco-int-l-photography-awards/finalists-2014

PM AWARDS コンテスト2014 風景、エコロジー、旅行部門 ベストフォトグラファー・オブ・ザ・イヤー受賞, ウルグアイ
2013
Granship art competition 2014, Encouragement award, Jpan
グランシップアートコンペ2014 奨励賞, 日本
Selected Residencies
2017 - 2018
Swatch Art Peace Hotel, Shanghai, China
(November 20, 2017 - May 20, 2018)
2017
SERLACHIUS MUSEUMS Mänttä, Finland
(September 1 - October 31)
Aboa Vetus & Ars Nova, Artist in Residence -program, Turku Finland
(March 15 - May 15)
2016
ALTE SCHULE, Hohenstein, German
(May 10 - 31)
NCCA Art Residence Kronstadt, St Petersburg, Russia
(April 4 - 26)
Werner Thöni Artspace, Barcelona, Spain
(January 5 - March 31)
Crowdfunding Projects
2016
世界中の絵をつなげた「SORA」 スリランカに運び、子どもたちの絵とつなぎたい!
https://a-port.asahi.com/projects/sora_ouma
(February 19 - April 8)
2015
世界の誰かとパートナーになれる!iPS細胞のアクセサリーで人と人との繋がりを可視化しよう!
https://motion-gallery.net/projects/cell_art_ouma
(January 7 - February 13)
2014
アートで心の癒やしを!獣医×作家「Ouma」と一緒にNYに自分の夢を掲げよう!
http://camp-fire.jp/projects/view/1037
(June 2 - August 1)
このプロジェクトにご支援いただいた方はこちらのページから確認できます。
http://oumavet.com/partner.html
Events
2015
Live Painting Event "1+4 hands", Kuramae4273 Creative garage, Tokyo
浅草の職人とのコラボイベント"1+4 hands(ワンフォーハンズ)"、蔵前4273クリエイティブガレージ、東京
After the event, the artwork was changed to bags by an artisan living in Asakusa.
アーティスト4人によるライブペイントイベントで、描きあがった作品は浅草の職人の手によりバッグとして販売される。
(May 22)
2014
Lovers Festival "GO TO HEAVEN", JOYPOLIS, Tokyo
夏の神フェスパーティ、東京ジョイポリス
(展示参加 June 28)
Copyright (C) tama_medama.All Rights Reserved.